Four Bold Predictions Ahead Of Nigeria Vs Argentina World Cup Cracker
Four Bold Predictions Ahead Of Nigeria Vs Argentina World Cup Cracker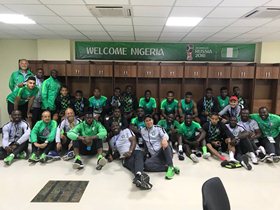 It is just about time when the Super Eagles get through the first stages of the FIFA World Cup for the fourth time in six tournament appearances. The stakes cannot be higher.The build up tension is at a high and while the Albiceleste can still make it through themselves with a win at the Krestovsky Stadium, Nigeria will look to frustrate their efforts in a bid to qualify as Group D runner-ups.
While the faithfuls look forward to yet another of the blockbuster games usually associated with these two when they clash, luckynewsinfo.com brings readers the four things likely to be seen in Saint Petersburg..
(1) Never Underestimate The Power Of The 12th man: A vociferous section of fans roaring the team on could do this team a lot of good. The Super Eagles fans in Russia can be the team's anchor in the stands, with a strong vocal and emotional support.
It's time to really get behind this team and end the Albiceleste World Cup hoodoo!
(2) This Game Is Very Much Likely To Produce Goals: The very last meeting at this stage between these two sides saw the South American country edge a five-goal thriller. Coincidentally, they will not be topping the group log this time even if the goals flow but we might have to watch another game of end-to-end action!
The Super Eagles beat them 4-2 in a friendly encounter staged in Russia last year after all. We only hope the Super Eagles are not outscored.
(3) It Could Be Almost Impossible To Stop Messi From Scoring This Time: The ego of one of best players to have played this game has been hurt so much. Criticisms have continued to pour in for La Pulga following their unconvincing start to the competition which has seen him fail to score any goal in each of their first two games.
He would want to prove doubters wrong with a spectacular showing tomorrow and it is inevitably certain that when he is in full swing, he is simply unstoppable.
(4) How Both Defenses Fare Would Be Handily Decisive: Any out of shape defensive line is bound to suffer much in this game. The reason can not be starker. While we know Messi and Co. will be waiting to capitalize on any defensive lapses, the Super Eagles attackers are more than capable of doing the same to their opponents.
The Nigerian defenders should take note of this.
Emmanuel Chinaza